Quinta do Rossio - Rural Tourism
Here is a very good reason to visit Azores!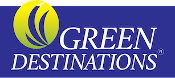 Azores, one of the best destination in sustainable tourism of Europe
The Azores are in the Top 100 best regions of the world in sustainable tourism for the site "Green Destinations" and first at European level, with a 8.9 rating out of 10. This is the first time the Top 100 Global Sustainable Destinations is launched, created from applications and tenders, followed by "a selection made by 30 international experts in sustainable tourism."   Read more...

Açores destino turístico mais sustentável da Europa
Os Açores estão na lista das 100 melhores regiões do mundo em Turismo sustentável para o síte "Green Destinations" e em primeiro lugar a nível Europeu, com uma classificação de 8.9 em 10 possíveis. Esta é a primeira vez que é lançado este Top 100 Global de Destinos Sustentáveis, criado a partir de candidaturas e propostas, seguidas de "uma selecção feita por 30 especialistas internacionais em turismo sustentável". Leia mais...